ODI Cloud Integration Pack
---
More and more organizations are realizing with every passing day that SaaS and Cloud Computing are the inevitable paradigm shift. As large enterprises slowly and gradually move their businesses to the cloud, the data residing on cloud becomes significant and critical for operations and strategic decision making. IT managers are struggling with the problem of diffusing fragmented data silos. Lack of out-of-the-box integration options available in current DWH/ETL tools and data integration platforms amplifies this problem's impact. Although there are a variety of connectors available to easily integrate on premise ERP, CRM and HCM applications with leading ETL tools, but only a few for SaaS applications like Salesforce.com, ServiceNow, Successfactors, Concur, SugarCRM, Amazon and others. For mature organizations, paucity of standards based integrations is impeding adoption of new age SaaS applications.
Bristlecone and a winery in Australia were awarded the prestigious Oracle Excellence Award for Fusion Middleware Innovation in Data Integration at the Oracle OpenWorld 2013.
In house development for cloud integration brings with it a host of challenges with respect to complexity, non-standard APIs, diversity of platforms, etc. Invested heavily in a leading Data Integration platform like ODI, enterprises need out-of-box connectors that can help leverage huge investments in existing ETL platform, skills and manpower to onboard these SaaS integrations on standard Enterprise Data Bus, running on powerful, highly scalable and robust Oracle Fusion Middleware Infrastructure.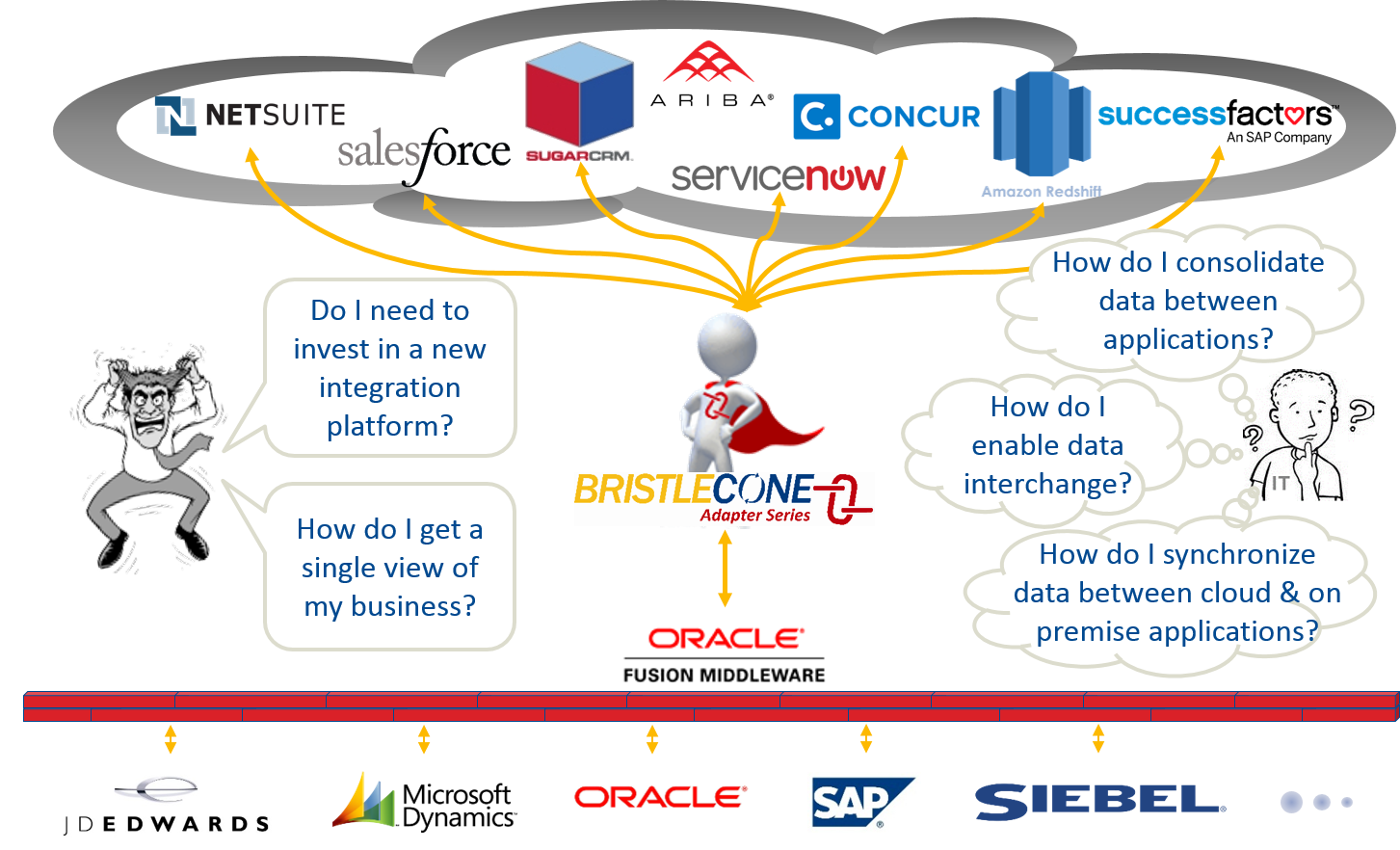 Cloud Adoption Challenges and High Level Integration Diagram
Oracle Data Integrator (ODI) is a comprehensive, market-leading data integration platform from Oracle used by multiple mid-large organizations worldwide. It delivers high-performance, seamless and code-free data movement and transformations among enterprise applications. It is fully integrated with Oracle Fusion Middleware, Big Data, and Oracle Appliances like Exadata, Exalogic and others.